Compost - Kompost
Planting time here in the Village - both Traditionally and Experimentally
Hello and welcome to this edition of our Blog, from Čardačani, in the north of Bosnia and Herzegovina, written by an immigrant (me), as I am neither a tourist or a citizen here.
---
Self Sustainability - Spring to Autumn
Well the sunny, warm to hot weather is back. To be honest we've been wishing this for some time. I know. When it's very hot we always want to be cold, and vice versa, but to be honest I'll take hot over cold any day.

Tamara's parents are working hard planting produce for harvesting later in the year.

Tamara's father bought this piece of land at the end of the 1980's with the aim of building a "Vikendica" or Weekend House. The house was built slowly but surely and has now transitioned into an all season two family living space.

His property is 4.5 Dulum is size. One dulum is equal to 1,600 square metres (17,222 sq ft). So 1.75 Acres?

He has a larger amount of the garden space tilled by a tractor, and allows his neighbour to use some of his land to grow vegetables etc.

With hot and sunny days, which might reach up to the upper 30's C as time goes on, there is an irrigation system in place to keep the garden watered.
The garden offers up the following:
Vegetables:
Carrots.
Bell Peppers.
Tomatoes.
Beans (long and white types).
Aubergine.
Celery.
Cucumber (Local and English varieties).
Zucchini.
Beetroot.
Bok Choy.
Spicy Peppers.
Onions (normal and Spring).
Garlic.
Fruit:
Apples. For Rakija, juice and pies.
Pears.
Blackberries. For Jam
Cherries. For Cake or Jam.
Plums. For Rakija.
Grapes. For Wine or Jam.

Whatever is not consumed or given to relatives and friends, will be preserved for winter use. Nothing goes to waste in this part of Europe.

Tamara's Experimental Garden.

Tamara has been captivated by the concept of "No Dig" gardening.
So she is now researching the use of raised beds and growing potatoes in buckets. Something it has to be said that I have not seen much, if anything of, in this region.

It's going to be interesting following her progress and thoughts (and results).
---
We have launched a Narrowcast
This past week I felt the need to revisit my first love of audio creation. As you will know (hopefully), there is a Living in Bosnia and Herzegovina podcast that's part of this Blog.
The podcast tells stories from Bosnia and Herzegovina through chats and interviews with interesting guests. We have a substantial archive worth checking out.

Over the years I have experimented with what I think might be classed as "narrowcasting", in other words broadcasting content to a defined listenership.

After posting my first audio diary (to paid subscribers) in a very long time, and getting inspiration from my online audio friend, Christian Payne (Documentally), I have decided to create a dedicated audio diary narrowcast.

This narrowcast won't replace this blog in any way, but for those that like to listen rather than read or view, this might be of interest.

"Chats from the Shire" and will be free to subscribe to.

I have invited a few close friends already to this new "narrowcast", but not the people on distribution list for this blog, as I am acutely aware of becoming "spammy".

I HATE Spam!

So please do give the episode below a listen, and if you like it, you'll see the link to subscribe.

See you there maybe?
---
We are off exploring: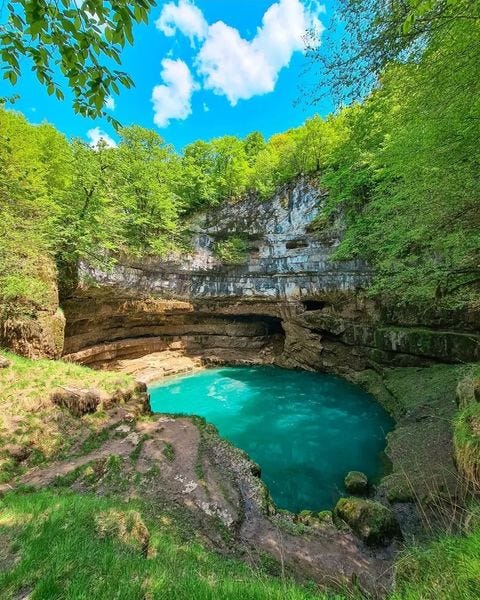 Bobijaško oko near Sanski Most.

Bobijaško oko is a karst phenomenon located at the foot of Bobija hill, some twenty kilometers from Sanski Most.
At the bottom of the karst, which is breathtaking in its size, there is a lake whose size depends on the season and rainfall.

This small hidden lake, located at the foot of the Grmeč mountain, which resembles the eye with its appearance, is one of the few places in our country where an endemic species lives - the human fish.
---
Bosnian Rugs
Did you know that Bosnia and Herzegovina is the only European country that has its own, Bosnian carpet, as well as the unique mode of applied, folk, and traditional arts.
 Rugs are beautifully adorned with rich artistic ornaments and colouring, which combine influences of the distant Orient and indigenous Balkan elements.
  The National Museum of Bosnia and Herzegovina has preserved a collection of over a hundred samples of Bosnian rugs.
 This is one of the few collections that exists in Bosnia and Herzegovina.
---
Thanks for reading this post. We hope it provides some value to you 😀👍

If you want to read back editions of the newsletter, listen to previous podcasts (we have quite an archive now), or catch other content, all this is available on the web interface, just like a regular blog.
Oh, and please share the newsletter with friends, relatives and colleagues using the button below.

Tamara and I appreciate your faithful readership, your comments, and your generosity! 
THANKS SO MUCH ❤️